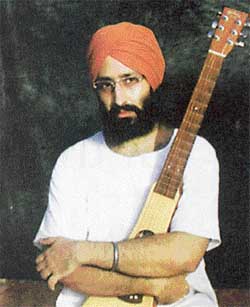 Last night, just before I slept, I chanced upon another song from Rabbi Shergill on Channel V. I just caught the last part of the song that ended with the beginning of our
National Anthem
.
Today morning first thing I did was download (illegally) the song. I heard it and it swept me off my feet. It is a must hear for anyone who even remotely thinks of India. While searching more about it, I realized that the song is about a month old and already has already been featured elsewhere on blogosphere (a very good post on
Sepia Mutiny
).
The song is available on the website of the album Avengi J Nahin at
ajn.co.in
. For those who prefer images to music, I found a low quality version on youtube
here
.
I will lift part of the lyrics from there, with due credits to Amardeep (
Amardeep's blog
).
Mera naam Bilqis Yakub Rasool
Mujhse hui bas ek hi bhool
Ki jab dhhundhhte thhe vo Ram ko
To maen khardi thhi rah mein
Pehle ek ne puchha na mujhe kuchh pata thha
Dujey ko bhi mera yehi javab thha
Itno ne puchha ki mera ab saval hai ki
Jinhe naaz hai, hind par vo kahan the
Jinhe naaz hai, vo kahan hain

Mera naam Shriman Satyendra Dubey
Jo kehna tha kah woh kah chukey
Ab pade hai rah main dil main liye ek goli
Bas itna Kassor ki humane likha tha
Woh sach jo har kisi ki zubaan tha
par sach yahan ho jaate hain zahreele
Jinhe naaz hai, hind par vo kahan the
Jinhe naaz hai, vo kahan hain

Mujhe kahte hain ? Manjunath
Maine dekhi bhatakti ek laash
Zameer kay beech sadak lakhiyonpur khedi
Aadarsh phansa jahan baataon main
Aur chor bhare darbaron main
Wahan maut ? ki ek khabar hai basi
Jinhe naaz hai hind par vo kahan the
Jinhe naaz hai vo kahan hain

Maza naam hai Lavleen Kumar
Unnees june unnees baar
Unnees unnees unnees unnees baar
Unnees unnees unnees unnees unnees unnees .. baar
Looto to haath kholo bazaar
Nalaspora aur Virar
Cheeno zamin humsey
Bhejo humain pataal
Jinhe naaz hai hind par vo kahan the
Jinhe naaz hai vo kahan hain
In this song, Rabbi talks about
Bilquis Rassol
,
Satyendra Dubey
,
Manjunath
and one Lavleen Kumar in the song. I know about Bilquis Rasool, Satyendra Dubey and Manjunath but can someone tell me who is this Lavleen Kumar? I searched his name and the context 19th Jun but could not find a thing. Someone please add here.
The lyrics talk about all these modern day Indians who have suffered because they thought they could raise their voices. Because they thought they could ask Y. Because they dared. Because they were Indians.
And their sacrifice probably got lost after our dear media moved onto other "more important" matters like health conditions of movie stars and relationships of cricketers. This song comes as a reminder for us. We do not want any more young engineers, management graduates to suffer the same fate. If these incidents fail to awaken the society, I wonder what would.
As I said earlier, the song ends with riffs from National Anthem and when it ends, you are left feeling good and bad at the same time. On one hand you are proud because you are humming your favorite tune. And you feel bad at the same time because music brings back memories of things being talked about in the song. The injustice, the call for action and finally the harsh realities of society we all dearly love.
In the end, I simply love the song and the entire idea of using music to spread word about India and being Indian. Do we know of more musicians like Rabbi? Can we please have more musicians like that in India?