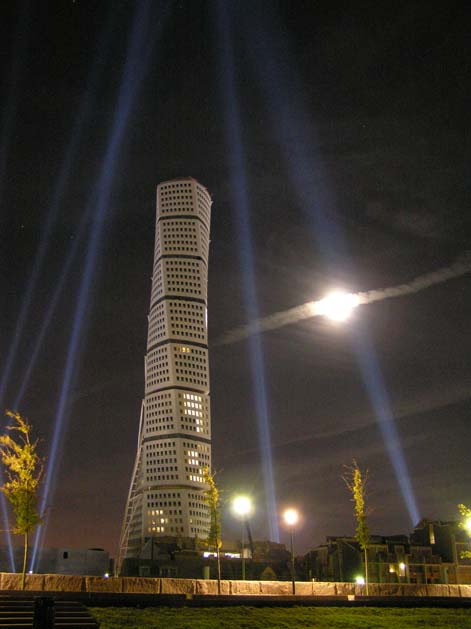 While reading the newspaper today, I came across The Turning Torso. It is a skyscraper in Sewdan is the second highest residential building in Europe.
I found The Turning Torso one of the most goodlooking skyscrapers I have ever seen. The pics that I have seen so far are awesome and I can't imagine the view when I get to see it for real.
The tower is modeled on Santiago Calatrava's design Twisting Tower. They say it is inspired from the human body.
The tower is roughly divided into 9 five story cubes. As the tower rises in height, with each subsequent cube, the tower twists around the axis and the ninth cube is rotated by 90 degrees with respect to the first tower. The first two cubes would have meeting and office spaces and the rest seven cubes would be resedential with 149 deluxe apartments. I sure would want to have an apartment there. The tower officially opened on 27th August 2005 and infact they are offering people a trip to the tower for five days... Wish I was in Sweden...
Detailed information about the architect, design and history is available at the links mentioned
I off late have started taking a lot of interest in large structures, buildings, artefacts and similar stuff.
This started as a post about The Turning Torso and I am afraid it would end with the Calatrava and praises for him. The work he has been able to conceptualize inspire people. Atleast I am having second thoughts about my choice of career and I thought about quitting everything and get into designing and sculpting.
Following are few links about The Turning Torso and Calatrava
http://www.turningtorso.com
(Official Turning Tower Website)
http://en.wikipedia.org/wiki/Turning_Torso
http://www.bizzbook.com/map/turningtorso.html
http://www.pbase.com/mistermattias/torso
Real Time Turning Torso Webcam View
http://www.calatrava.com
(Official Calatrava Website)
Calatrava.info
(Unofficial Calatrava Website)
Calatrava Designs
ORIGIANALLY POSTED ON August 29, 2005
REPOSTED FROM ABOUT2EVOLVE TO SEPTEMBERTHE22ND